Do you enjoy listening to music? Or maybe you are a beginner in music production and want quality equipment. Whatever the case is, quality headsets are one of the must-haves for anyone who loves clean and good sound. Simple, isn't it better to hear every tone very clearly? Surely it is.
If you agree with this, then we have a great suggestion for you. It's the purchase of noise-cancelling headphones that can significantly improve your music experience and make you enjoy high-quality sound. So, these headsets have technology that can prevent or cancellate any noise that may interfere you while listening to music. So, is it worth investing in equipment like this? The answer is yes. To help you choose the best of the best, we've created the following list of the top 10 noise-cancelling headphones in 2019.
In the next article, you will literally be able to find any type of headphones you want. First of all, we have focused on those with ACN (active noise cancellation) rather than those with passive noise cancellation. This is because the ANC is based on technology that blocks ambient noise and doesn't allow these sounds and music to mix. Also, this technology will help you prevent hearing damage, because in environments where noise is increased, most people turn up the volume instead of continuing to use the earphones at a level that is comfortable and convenient for ears.
However, our decision for active noise cancellation doesn't mean that passive ones cannot deliver good performance; on the contrary, those can perfectly fit to the ear can create a very similar effect to ACN.
Also, if you are looking for wired, wireless, over-ear headphones or maybe earphones, we thought of all the needs and we have listed different models. So just keep reading and we are confident that you will be able to find the right headset for you.
Another thing we need to emphasize before you begin reading is that you shouldn't expect budget models because these are high-quality products. Thus, active noise cancellation can reach quite high prices of several hundred dollars. However, there are a couple of budget-friendly variants (if this can be said so) that will give you fairly high sound quality and noise cancellation level. So, without further delay, let's get started.
10. Bose Noise Cancelling Headphones 700
Honestly, these headsets are really fantastic. On first use, you will realize that they give you very clear sounds (high and low frequencies). For example, bass is great as well as microphone clarity. Also, there are no objections to the design as the Bose 700 is really comfortable. However, the biggest problem is the really high price. Currently those headphones cost as much as $400. Still, if money isn't a problem for you, then these are definitely the best ones you'll find in 2019.
9. Marshall Mid ANC
If you are looking for something more budget-friendly, our recommendation is the Marshall Mid ANC. You all know that Marshall is one of the manufacturers of the highest quality music amplifiers and has a distinctive classic retro design. Well, they applied the same design to this headset. Indeed, they look very nice. Also, Marshall Mid are comfortable and have a nice fit to the ear. The bass is as great as well as sound in general. They also use Bluetooth technology to make everyday use easier. As for the price, you can find the Marshall Mid ANC for about $270.
8. Bose QuietComfort 35 II
Another great headphones by Bose are their QuietComfort 35 II. Similar to the Bose 700, these have really fantastic bass as well as highs. Also, they are compatible with Google Assistant and are undoubtedly among the best wireless headphones you can find on the market right now. Still, the price is the biggest problem as with many Bose headset. In particular, you can find these for about $350, which is still pretty high.
7. Bose QuietComfort 20
Yet, if you want great noise-cancellation pair of earphones, then the best solution you will find right now are those ones by Bose. The Bose 20 also belongs to the QuietComfort series and, above all, features a very crisp and clear sound, especially the bass. Also, they are designed to be very comfortable even after hours on ears. Unfortunately, the price is really high, and this can generally be a problem when it comes to Bose headphones. You can find these on Amazon for about $250. Pretty crazy price, right?
6. Sony WH-1000XM3
Sony is another company known for its fantastic audio products. Their WH-1000XM3 headphones don't deviate from this tradition. These one has superb clarity and depth of sound and of course high-end noise cancellation. Also important are additional features like ANC (Active Noise Cancellation) and EQ adjustability. Overall, the Sony WH-1000XM3 will give you a great sound experience. As for the price, you can get them on Amazon for about $350.
5. Jabra Elite 85h
Another solid headphones are the Jabra Elite 85h. Just like Sony's headset that we mentioned earlier, these ones also have adjustable EQ and ANC, which adds to a better user experience. Of course, the bass and highs are premium. However, there is always a downside, and in this case, it is a fairly high price tag of $300, as well as the fact that the ANC can affect the sound and modify it a little. While it doesn't seem too problematic, the fact that the Jabra Elite 85h costs $300 should exclude such things.
4. B&O Play Beoplay H8i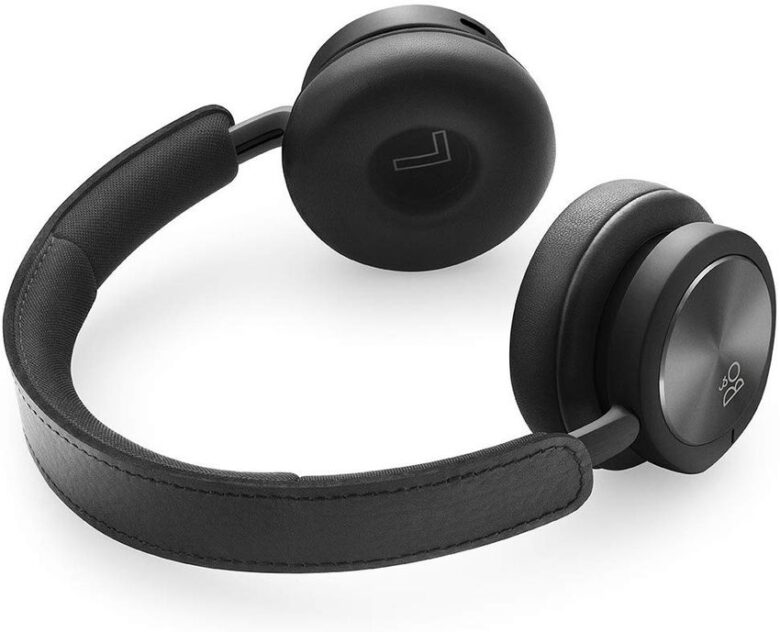 When it comes to B&O Play Beoplay H8i, these headphones can give you a really high level of quality as they have great features. Namely, there is a high level of noise cancellation, but above all, clear and deep sounds. Also, there is an app for your smartphone that you can use for customization of B&O Play Beoplay H8i to make it perfect. The only problem can be the high price, which goes from $315 to even $400, depending on where you shop.
3. Jabra Elite 65e Review
If you are a fan of powerful bass, the Jabra Elite 65e are the right ones for you. In addition, they offer a fairly high level of noise cancellation. Also, Elite 65e are great on the ear and are comfortable too. One very interesting thing is that you can fully customize them through a fine-tuning smartphone app. In terms of pricing, these are affordable models and you can currently pick them for around $200.
2. Plantronics BackBeat Go 810
Another great headphones for all bass lovers are the BackBeat Go 810 by Plantronics. At first glance, you can conclude that those are nicely designed and fit perfectly in the ear. This also means that they have a high noise cancellation level and will give you a great experience.
Also, very crisp and clear tones are featured, whether it's about low, mid or high frequencies. The problem we noticed is that active noise cancellation (ACN) can sometimes produce some sound like hiss. However, this is rare, so we can say that these headphones are a very good choice. Also, the price is very affordable in terms of quality and you can currently find them for under $150.
1. Bose QuietComfort 25
In the end, we have listed another Bose headphones, and again from the QuietComfort series. These are the Bose QuietComfort 25s that have the most reasonable price of all the Bose headsets we mentioned earlier. QuietComfort 25 are very nicely designed and have a high noise canceling level. This also means that they are really comfortable. We especially like the mixed work because you can use them as passive or with active AAA battery. Unfortunately, the battery is not rechargeable, so this can be a problem. However, with powerful audio performance there is no doubt they are at the very top of currently available products.