Headphones have become a gadget nobody can do without, especially those constantly on the move. They are no longer used only for music, although this is still their primary function. Now, people wear all sorts of models while they are watching their video content, playing games, or talking to their loved ones. For the latter, you will need a pair of headphones with a quality microphone as well. With that in mind, following is a list of the best headphones with a mic in 2019.
1. Jabra Elite 85h
We start off our list with a famous brand of headphones and earphones. This model by Jabra is among the best headphones with a mic, perfect for any use that requires this combination. The headphones are comfortable, and the big over the ear design is well built. They are also quite easy to use, and thanks to the Bluetooth 5.0 support, they are able to connect to two devices at the same time. This option is very handy if you answer calls on the computer and smartphone at once.
The microphone records clear and detailed speech that will be transferred with quality even in quiet environments, such as an empty meeting room. At times, it may lack airiness and be somewhat thin, but it is quite easy to understand, especially with low background noise. It can struggle with noisier environments, like any other microphone, which is normal. This is one of the best mics on a pair of headphones that are not meant for gaming. The battery life of this model is amazing, as they offer 34 hours of work time. If you charge regularly, you will never be caught off guard and run out.
2. Jabra Elite 65e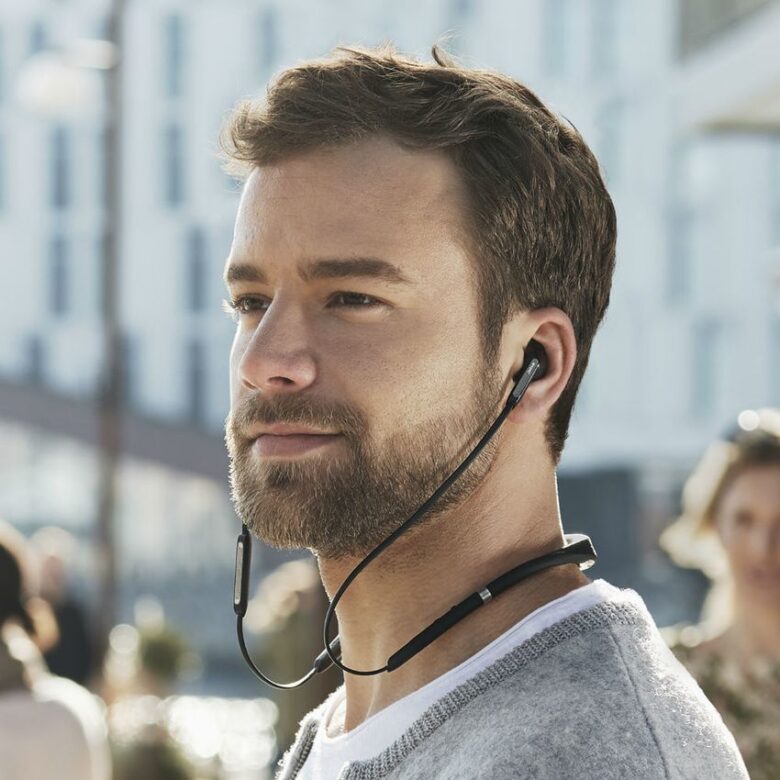 Here is another model by the same brand. These ones however are actually earbuds, and not over the ear headphones. The Bluetooth earbuds have a more than decent microphone, while of course, the sound is not as accurate as the first entry on the list. However, if you need in ear headphones, you cannot go wrong with this model. They are practical and very portable, and you will never feel them on you. The neckband is flexible, while the wireless in-line microphone is located on the right cable. It performs quite alright, considering the rest of the Bluetooth powered earbuds.
While we are on the topic of the competition, most tend to have their mics integrated into the neckband. These Jabra earbuds have it in such a way that it is closer to the mouth. This helps with the much-needed recording quality. The mic is capable of separating voices from ambient noises, even in some noisy environments. The battery life on them however is not that impressive. The total amount you get is 8 hours. In a scenario where you were listening to music for hours and a phone call arrives, you might be in trouble. On the plus side, noise isolation is good, with the right earbud tip fit of course.
3. 1More Triple Driver
Do you have multiple devices that all have the traditional headphone jack and you want to own a versatile pair of headphones with a mic to use with everything? Well, you are in luck, as the 1More Triple Driver will solve all of your worries. These are not wireless Bluetooth headphones, but they make up for it all with great recording quality.
Your recorded speech sounds open and it is easy to understand, especially in quiet environments with no background noise. They have a 1/8" TRRS audio cable equipped with an in-line remote, which is compatible with gaming consoles, computers, Android, and iOS devices. Because of this amazing connectivity feature, they are one of the most versatile wired headphones out there. In addition, you will never have to worry about the battery life! Their comfort could be better however, and you might be tired from them after longer sessions. The earbuds are angled, and you get nine tip options.
4. SteelSeries Arctis Pro Wireless
SteelSeries is a very popular and trusty brand among gamers all around the world. They make all sorts of peripheral devices and gadgets to help the gamers get the most out of their gaming sessions, including keyboards, mice, and of course, headphones. If you need one of the best gaming headphone pairs with an amazing microphone feature, this model might be what you are looking for. These are very comfortable to wear and suitable for long sessions. They are well built and are equipped with a unique base transmitter. Through this option, you can game wirelessly while mixing the audio from a Bluetooth source, too. During a gaming session on your PC or PS4, you can also make a call from the smartphone.
Regular Bluetooth and wired headphones have microphones that find it hard to separate your speech from all of the ambient noise. However, since gamers need the best conditions while playing, these gaming headsets are all much better at this task. These ones in particular handle the surrounding noise amazingly well, even in the most demanding conditions like gaming events. Conferences are no match for this mic. The sound is also great, and it will always be full, clear, and highly intelligible. There have been some reports of quiet sound on some phones and consoles, and the mic controls could be richer.
5. Logitech G433
The last entry on our list of the best headphones with a mic in 2019 is by another great name in the tech industry, Logitech. This brand makes all sorts of gadgets and devices, for gaming and regular use alike. If you need headphones with a good enough microphone for online gaming, as well as your daily business needs, the G433 by this company is here for you. This is another versatile wired model, thanks to many microphone and cable features. They have a detachable boom microphone as well as a regular audio cable for gaming. What is more, an additional cable is provided with an in-line microphone for a remote use on the go.
This pair of headphones also has one of the best boom microphones on the market, which has superb noise handling and a high quality recording option in any environment. The speech recorded sounds natural, full, and present. With this combo of good recording quality and noise handling, this device will fill all of your needs, be it business or pleasure. One potential down side is the design, as they do not look premium, but plasticky instead. The price, value, and build are all decent however.